5 Out-of-the-Box Video Wall Applications for Greater Business Visibility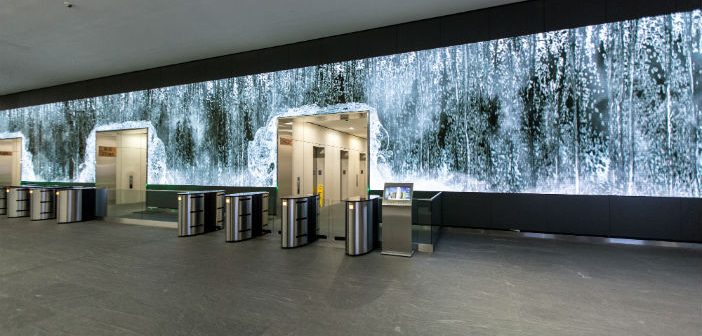 The advancement in technology has now made it possible to amplify the visibility of your business & boost its growth through various revolutionary upgrades intending to change the dynamics of display visibility forever. All these astounding advancements have introduced the industry to a new technology that transforms the approach toward display advertising and offers a number of benefits to businesses with its benefitting applications.
These technological advancements can elevate the effectiveness of your marketing strategies & efforts through smartly designed LED Video walls. They are a smart display advertising strategy that gives your business an edge over your competitors, and can actually make you stand out of the crowd if used particularly well.
Here are 5 out of the box applications that you can leverage to gain greater business visibility
1. An effective way to interact with your audience- Indoors & Outdoors
Interacting with the audience is the basic principle of modern business ideology as nothing works if you are not capable of interacting. It means offering them impactful insights into the business, services, and products & educating them about your business in a very dignified manner. Using LED video walls helps you express your brand message & convey it to the audience in a very effective way. With the features like a high-resolution & realistic view of the Video walls, it becomes possible to gain visibility & grab attention even from a distance. Having an LED video wall indoors or outdoors of your business location can benefit with extra attention from the audience, helping you with greater visibility in all aspects. Also for Banks, Retail outlets or LFR can use this LED to attract customers to visit their premises.
2. Allows critical operations management with efficacy
It is essential to manage critical operations with keen attention & efficacy to yield the best results. However, employing several different small screens may make it difficult to keep track and not benefit in a positive way. In fact, using a number of screens grouped on a small screen may not be effective as well. Hence, at times like this using LED video walls with multifunctionality features can prove useful. All the screens clubbed together in one screen visible in high resolution give you an edge over your competitors. This tactic can also be used to display a number of products at the same time along with making the slideshow interactive for all.
3. A powerful tool for corporate communication
A strong way to communicate with employees & associates through the screen, having LED video wall equipped corporate workplace beyond a doubt enhance the way of communication. This powerful tool can be used to leverage an edge over your competitors. An effective way to apply promotional tactics through informative tools, the LED Video walls not only empower the organization's communication but also engage the visitors by marking a strong first impression. Some places where the LED video walls can be employed are cafeterias, for highlighting policies, procedures, company updates, giving brief information about the company & its work in a strong and engaging way, etc.
4. An engaging way of education for students
Education has now also leaped with advancements in technology & has upgraded in a very effective manner. With the new word, Edutainment taking turns in the industry, it has created a buzz across industries & platforms. LED video walls are an effective way to keep up with the global trend & make education engaging as it transforms the passive way of education into an active one. It provides a spectacular experience for both facilitators & students in a very collaborative way. A way towards immersive learning, integrating LED video walls can upgrade the level of education with smart learning that explores beyond the academic learning environment.
5. Source of exposure for your business
There are ample ways & opportunities you can use to amplify the visibility of your business. You can use the screens at railway stations, airports, bus stops, and other crowded places as a way to communicate with the audience. These screens can also be employed at entertainment & sports places intending towards generating revenue through ads. In both formats, the screens can be offered as sponsors with ads that run in between the scheduled information sessions of respective authorities.
These LED video walls are here to stay & will have a big-time show with businesses that look forward to flourishing on a larger scale. As a strategic investment, LED wall price in Mumbai gets you benefitting deals without affecting your budget and yielding good returns. Image Solutions, a leading LED Video wall manufacturer in Mumbai presents a hi-tech top-notch quality led video wall in a very cost-effective manner. Suitable for all indoors & outdoors display advertising that gives you a cutting edge in brand visibility, these LED video walls by Image solutions stand as the best opportunity for your business to expand its reach most efficiently.