The Latest Trends in LED Display Market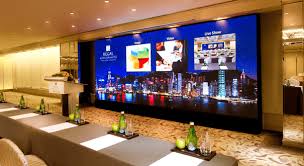 Standalone banners or hoardings are history now! The LED display industry in India has been observing specific changes from the past few years. With such transformations, one thing is sure, that we are in the post-modern generation of radical innovations and technological advancements that already promises an entirely different future we probably won't even think of.
With the invention of LEDs, the vision and the thinking patterns for the upcoming generations have changed drastically. Innovation is the key to sustenance in such a dynamic marketplace and an ever-increasing competitive world. With LED display panels, advertising and marketing are occupying a whole new level.
What Statistics Say?
According to studies, digital signage solutions grab about 72% more attention as compared to online ads, since 90% of the information gathered by human beings is in visual form. Moreover, about 60% of the people who view digital display ads want to gain further knowledge about your product.
LED displays have become part and parcel of our day-to-day lives and is becoming a compulsion in almost every industry. With eye-catching texts, fonts, animation, and full-motion pictures, 80% of the customers agreed that they enter the store simply because digital displays seized their attention.
What are LED Display Panels?
An LED display is a flat panel display that comprises an array of light-emitting diodes which are converted into pixels for promoting a video display. Used as store billboards or signs, these LED panels are bright enough to be visible even in broad daylight.
They might vary from a small display to a larger screen display as commonly found in shopping malls or multiplexes. In recent days though, one can even find LED display panels used as destination signs or guides in public transport vehicles. Retail stores to have taken to this form of display to keep the customers updated regarding offers or new product launches.
Market Trends of LED Display Walls
Being an aspiring advertiser or a business manager, you need to explore the possibilities with LED signages. There can be a host of applications of these displays, and going with the trend is necessary. Let's discuss the latest trends in such a form of advertising.
Durable and sturdy.

LED display walls these days are durable enough to withstand outdoor weather changes and is capable of surviving harsh weather conditions.

New styles rob the show.

They come with unique installation designs and styles that are sure to catch your visitors' eyes.

Experiment with various shapes.

Try visualising beyond the regular geometrical shapes like squares or circles. Make things intriguing!

Video LED wall becomes the showstopper.

It's nothing like playing a series of videos on a continuous loop for imparting a premium-quality feel for your brand. Let your customers fall in love with you!

Go for space savers.

Avoid occupying unnecessary spaces. A window or a high wall of some skyscraper would be ideal, both for fine visibility and saving some vital public space.
Although the LED form of display advertising might be a bit heavier on your pocket, it is no doubt worth it. Your sales would begin to rise within a few days. If you are confused about which might be the best LED video wall in Mumbai, you can check out for dealers near you and research on the internet to get the best display ad campaign of your dreams!